Solar Studio
The 'Green Machine', the studio in which Turtuga Blanku music is recorded, runs completely on solar power.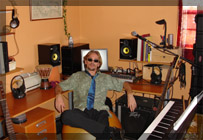 How does that work?
Well, you need the sun and a couple of solar panels. Those are placed in such a way that they catch the sun for a maximum number of daylight hours. The Green Machine has them on the roof, 18 of them (in total 1400W).
Converted energy is lead to a charge controller and on to eight deep loading batteries. Those are a bit different from your regular car battery. They are 6 Volts, but connected in parallel as to put out 12 Volts DC. A (3000 Watt) converter further changes this into 110 Volts 60 Hz AC.
Because of the batteries,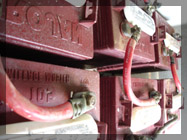 the Green Machine is also operational after the sun has set. A battery system monitor enables checking up on the charge status of the batteries to avoid draining them.
However, to keep the power usage low, the set up of the studio itself has deliberately been kept simple; some basic hardware and then a lot of software. (Contact Turtuga Blanku by
e-mail
if you are interested in the details).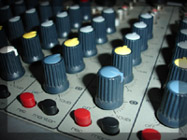 Instruments like guitars, bass, piano and also the vocal mics are plugged into a small analog mixer. The signal is send to a digital audio workstation (DAW/computer) and converted from analog to digital by a dedicated soundcard. Recording software grabs the digitalized sound and sequencing software enables mixing and sound processing.
That, and a nice view outside the studio window, is what results into Turtuga Blanku's
recorded sunshine music
.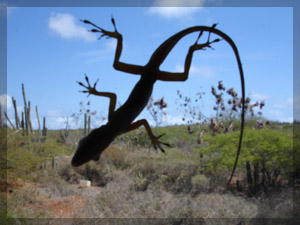 To support Turtuga Blanku's music and his efforts to popularize Solar Power as an alternative energy source, please buy Turtuga Blanku
music
,
merchandize
, send a
donation
, and/or place a
banner
on your website.