Donate
Turtuga Blanku promotes the use of Renewable Energy and especially Solar Power. Through his
music
(and by sharing the way his recorded sunshine is
produced
), through the website and the internet in general, Turtuga Blanku is helping to make more and more people aware of the need and advantages of Solar Power.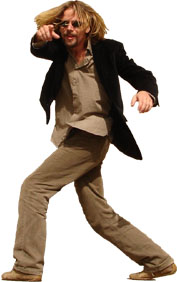 "It is quite simple, really: Solar Power enables you to keep on living at high standards, without having to worry about the negative effects that come with using conventional, non-renewable energy sources.
Solar Power means minimal pollution, decrease of global warming, and no ever-rising energy bills. You invest in the ability to make use of a free energy source and you invest in a clean future. So, in more than one way, you are wasting only by NOT using solar energy!"
If you want to support Turtuga Blanku in his efforts, please send a donation. Any donation will be used exclusively for the purpose of continuous promotion of renewable energy and the creation of environmental public awareness.

"I want to show that solar power is for everyone. You can use it in your home, but also in your business -any kind of business- the music industry included.

Music being a very powerful media with a broad reach, it is a perfect tool to inform people, to popularize renewable energy and to generally spread the word."
Turtuga Blanku is not affiliated with a big record company or any company in solar equipment production/sale, so in order to continue the musical solar power promotion work, extra funding is always welcome.
Please send your donations to:
Turtuga Blanku's paypal account by pressing the donate button on the right:
Or send your check to:
All sponsors will receive a confirmation. Any donation over $150 will be rewarded with a free* Turtuga Blanku Solar Power Music t-shirt (with TB-recycle logo on the front and 'Solar Power Music Support' on the back).
In order to receive the confirmation mail and, if applicable, the free* t-shirt, don't forget to send your contact information (name, e-mail and/or shipping address, t-shirt size, M/F) to this e-mail address (if you have not already provided it):
donator@turtugablanku.com
Thanks a lot, and remember... "Solar Energy; use it or lose it!"

*In some countries you may be charged Customs duties, Excise duties and/or import VAT before you can take possession of goods send to you. Unfortunately, we are unable to foresee if that is indeed the case in your country or to take these costs upon us. Our apologies for this.