Biography
Put
Manu Chao
and the
Red Hot Chili Peppers
together in one studio and you probably get some idea of what
Turtuga Blanku music
sounds like.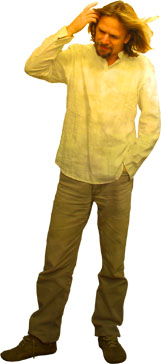 However, in Turtuga Blanku's studio instead of five men, there's one... Turtuga Blanku. He records and produces all songs in a small studio called the '
Green Machine
'.
Although foremost a musician, Turtuga Blanku is a biologist by education and at heart as well. This is reflected in some of the lyrics, but especially in the way Turtuga Blanku produces music.
The 'Green Machine' is a completely solar powered studio. By using renewable energy resources, you don't have to choose between being environmentally conscious and enjoying modern day luxuries.
The combination of a European background and working with sea turtles in the past at Turtuga Blanku's current Caribbean home base accounted for the nickname he was given: 'Turtuga Blanku' (which means 'White Turtle'). It also led to the development of a rather fresh style of music with pop-reggae-funk influences;

you think you have heard it before, but it does not sound like anything you know.
Please enjoy Turtuga Blanku
music
and feel free to send any questions or comments through the
comments
-page or the
contact
-page.
Cheers!
Turtuga Blanku